The fastest way to pass the NAPLEX.
Award-winning learning software generates fully customized study plans to get you exam-ready in less time.
PharmCon offers the only NAPLEX prep course that combines AI-backed technology with real-time algorithms to generate 100% unique study plans for each student—taking the guesswork out of NAPLEX study and finding your fastest path to a passing score.
What makes A.S.A.P. Technology™ the best exam prep software?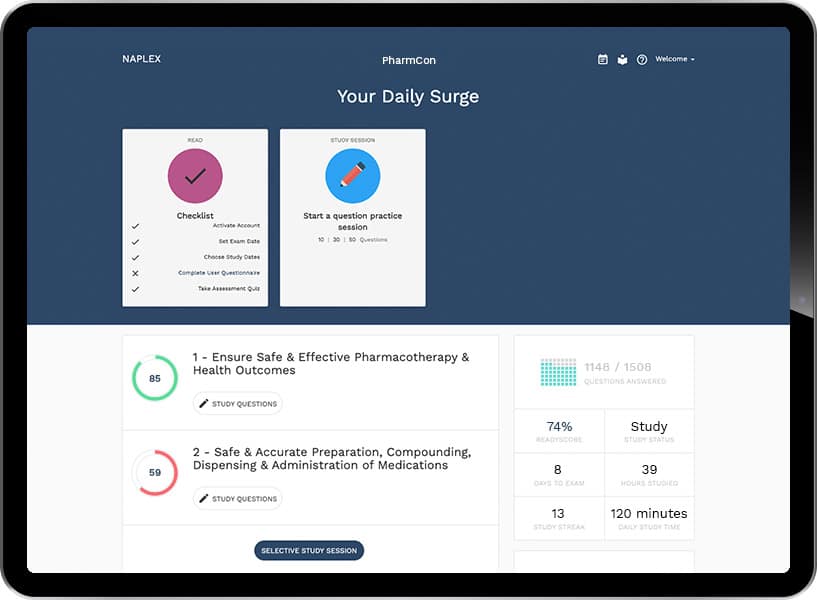 PharmCon Makes Studying for the NAPLEX Exam Easier and Faster
Our proprietary software determines what you know –and don't know—and generates a study plan that addresses your unique knowledge gaps. All along, real-time algorithms react to your progress and adjust those study plans, ensuring you're always on your fastest path to the finish line.
This one-of-a-kind feature takes the guesswork out of exam readiness. At each stage of your studies, you'll get a highly accurate estimate of what you would score on the PTCE if you sat today.
MyMCQ automatically adjusts the difficulty level of the multiple-choice questions you see. Instead of wasting time with questions that are too easy to help you learn, MyMCQ ensures you'll learn more in less time.
Every course also comes with:
Free, Automatic Content Updates
SEE FOR YOURSELF HOW
NAPLEX REVIEW BY PHARMCON WORKS
Technical Innovation of the Year (American Business Awards)
"This is a pretty remarkable and innovative feature. There are many testing programs that don't offer any guidance on testing progress, so this is a nice feature to see."
–American Business Awards Judge
Remove CSS blocking display of this section below.